Now back in Prince George. Cold cold rainy ride over here
from Stewart. It was sunny and mild in Stewart when I left,
but quickly turned cold and wet. Had to put the liners back
in at the Hwy 16-37 junction, I was freezing and getting
hypothermic!! Cranked up the hand warmers full blast and
rode in rain for several hours. Now it's back to being sunny
and warm!
I saw a bear and actually got a picture this time! It was
halfway down Hwy 37 from the 37-37a junction and the
37-16 junction.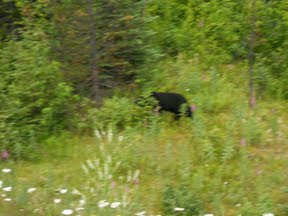 Now off to dry out my boots.
- Posted using BlogPress from my iPad
Location:Graves Rd,Prince George,Canada