Once again, the weather forecasters were full of it.
Hey, it's a good thing!!! It was partly cloudy and
cool all day, getting warmer as I went north. Feels
like about 65 degrees here in Hyder.
Roads were perfect, nice smooth well maintained
blacktop all the way, even on the Cassiar Highway.
I'll be it's that way all the way to the Yukon.
Staying at the King Edward Hotel right in downtown
Stewart. The WiFi is slow but I'll see if I can post
a few pictures.
Worlds largest fly rod, along Hwy 16: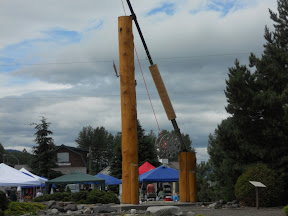 The explanation:
Cool bridge at Historic Hazelton:
And it's plaque:
Along Hwy 37a towards Stewart. Unbelievably beautiful
ride into Stewart!!
Bear Glacier:
One more. Don't think the Internet connection can do more...
I saw two bears on the ride today. But I had my thick warm
gloves on and just couldn't get the damn things off in time
to get a picture. The last bear waited a minute, got bored and
wandered into the woods. Both of them were ambling across
the road in front of me a couple hundred feet ahead.
Taking the day off tomorrow (Saturday). Staying two nights
and just relaxing. Maybe wander around town...
Posted using BlogPress from my iPad
Location:Glacier Hwy,Stewart,Canada